New book available! "The Beginning of the American Fall"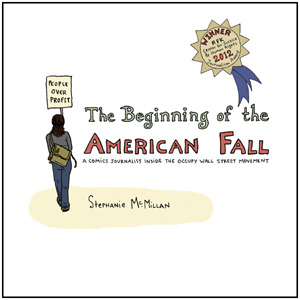 "The Beginning of the American Fall: A Comics Journalist Inside the Occupy Wall Street Movement"
2012, Seven Stories Press.
"With delightful full-color drawings, interviews, dialogue, description, and insightful reflections, this book chronicles the first several months of the fragile and contradictory movement. It situates detailed personal experiences and representative narratives within the broad context of a truly unique and historical global conjuncture. This book will stand as a record of the emerging movement in accessible comics form."
$16.95 – FREE shipping in US
---
Please note: for international shipping of one book, please add $10. For other quantities, please email me: steph@minimumecurity.net).