Statements from workers in Haiti to workers in Bangladesh
on
December 27, 2014
at
10:12 pm
Last year when I met some members of the Bangladesh Trade Union Federation near Dhaka, I brought a solidarity letter from the autonomous organization Batay Ouvriye (Workers Fight), in Haiti. The Bangladeshi workers responded with a message in return, and a photograph raising their fists in an expression of working class unity.
The message was translated into Kreyol and sent to Haiti shortly afterward. Then last month I participated in events organized by unions of Batay Ouvriye in three areas: Port-au-Prince, Cap Haitien, and Caracol. The workers in each place (mostly garment workers, but others too) requested that their photographs and statements of internationalist solidarity be sent to the workers of the BTUF. The statements have been translated into Bangla, and are below, along with photos.
হাইতির শ্রমিক শ্রেণীর পক্ষ থেকে, আমরা, হাইতির উত্তরাঞ্চলের শ্রমিকরা, বাংলাদেশের শ্রমিকদের সাথে সংহতি প্রকাশ করছি । আমরা তাদের বলতে চাই, যে লড়াই আপনারা গড়ে তুলছেন, আমরা হাইতিতেও অভিন্ন লড়াই গড়ে তুলছি । এটাই অদ্বৈত সংগ্রাম । আমাদের সবার উপর সাম্রাজ্যবাদী শক্তিসমূহ তার শক্তি প্রয়োগ করে চলেছে । আপনাদের মত আমরাও নির্যাতিত । আমাদের কাজ করে যেতে হবে যাতে শ্রমিক শ্রেণী বিশ্বব্যাপী অভিন্ন দৃষ্টিভঙ্গি নিয়ে, অভিন্ন লড়াই গড়ে তুলে, যতক্ষণ পর্যন্ত না আমরা পুঁজিবাদী ব্যবস্থা উচ্ছেদ করতে পারছি। আমাদের দরকার পুঁজিবাদী ব্যবস্থা মোকাবেলার জন্য, বিশ্বব্যাপী শ্রমিকদের ঐক্য।
পুঁজিবাদ নিপাত যাক।
বিশ্বব্যাপী শ্রমিক শ্রেণীর লড়াই, দীর্ঘজীবি হোক ।
In the name of the Haitian working class, we, workers in northern Haiti, stand in solidarity with workers in Bangladesh. We wish to tell them that the struggle they are waging in Bangladesh is the same struggle we are waging here in Haiti. It's ONE STRUGGLE. The imperialist forces are projecting their power on us all. We are victims of it as much as you are also victims of it. However, we have to work so that the working class worldwide builds unity in the same worldview to wage the same struggle until we can overthrow the capitalist system. We need a worldwide workers' union to confront the capitalist system.
Down with capitalism!
Long live the working class struggle worldwide!
সকোয়া সংহতি প্রকাশ
আমার নাম জ্যাক, হাইতির সকোয়া (Union at Codevi, Free Trade Zone) ইউনিয়নের সদস্য । আমরা , সকোয়া জাতীয় ও আন্তর্জাতিক পরিসরে অন্যান্য সংগঠনের সাথে ঐক্যবদ্ধভাবে আন্দোলনকে এগিয়ে নিয়ে যাচ্ছি। আমরা শ্রমিক শ্রেণী, বিভিন্ন দেশে, বছরের পর বছর, এমনকি এখনও, যারা অবদমিত এবং যাদের সংগ্রাম করার অধিকার নেই। অইসব দেশগুলোর মধ্যে বাংলাদেশের শ্রমিকরা নিজেদের মধ্যে ঐক্য গড়ে তুলছে। আমাদের বিজয়ের প্রতীক হিসাবে ছবিট তোলা হয়েছে। আমাদের শৃঙ্খল না ভাঙ্গা পর্যন্ত অবশ্যই আন্দোলন চালিয়ে যেতে হবে।
দুনিয়ার মজদুর , এক হও।
SOKOWA Solidarity Statement
My name is Jacques, member of the SOKOWA (Union of CODEVI Workers in Ouanaminthe) union in Haiti. We in SOKOWA are aligning ourselves with other organizations to move the struggle forward nationally and internationally. We, the workers in the working class in various countries, for years until now, have been victims of intimidation and repression in our struggles. Among such countries is Bangladesh where workers are kept from uniting themselves. Thus, the photo taken as a symbol of solidarity represents a victory for us. We must continue to struggle together until we break our chains.
Workers of the world, unite!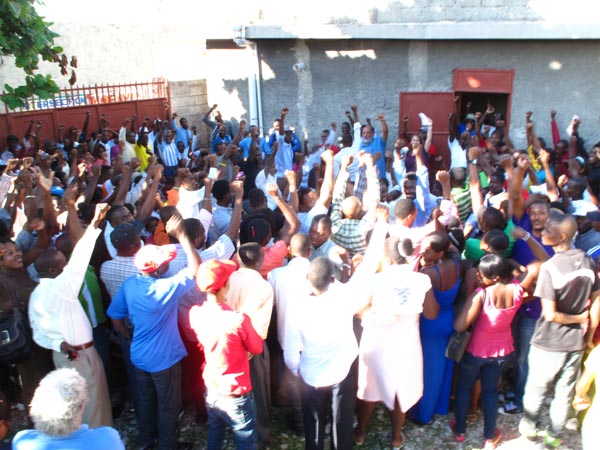 Port-au-Prince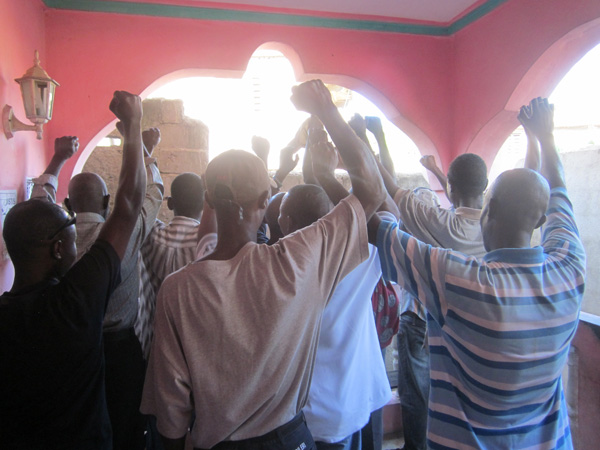 Cap Haitien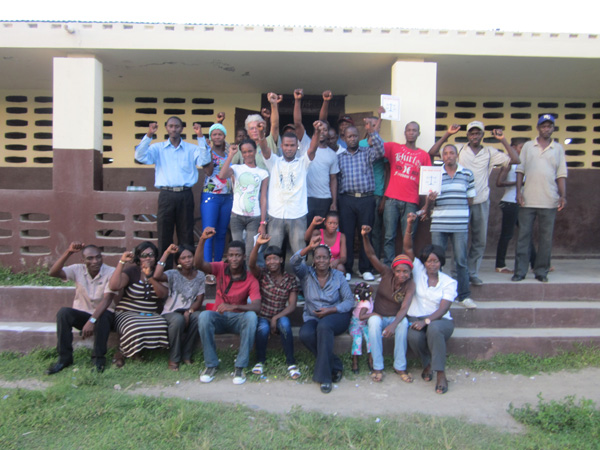 Caracol, Ouanaminthe