Calendar funding starts today — your help would be much appreciated!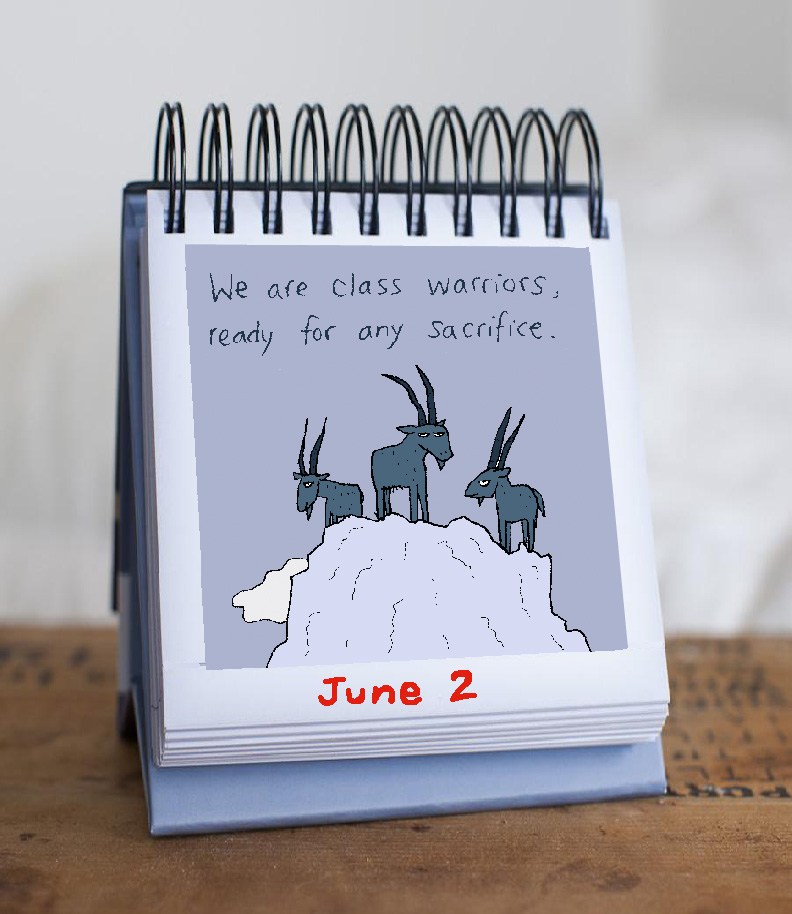 Today is the launch of my Kickstarter campaign to fund 365-day perpetual calendars featuring "Daily Affirmations for Revolutionary Proletarian Militants!" Here's the link:
https://www.kickstarter.com/projects/stephaniemcmillan/365-affirmations-for-revolutionary-militants-desk
I would appreciate it very much if you would share this link with your friends and networks. And of course, if you'd like to help fund it by pre-ordering your own calendar, that would be great too! The first 50 backers can get the calendar at $5 off the retail price.
Kickstarter is a crowd-funding service that offers independent creators an avenue to receive funding pledges in exchange for pre-orders and other rewards. Backers decide how much to pledge, with funds only going through if a target threshold is met.
Kickstarter is all or nothing: if I don't secure $11,000 in pledges and pre-orders by June 12, printing will not go ahead and you will not be charged. So it will only be produced if enough people really want it to be.
THE CALENDAR
The "Daily Affirmations for Revolutionary Proletarian Militants" perpetual calendar will be spiral bound with a stand so you can display it on your desk (or wherever). It will feature 365 full-color drawings with inspirational messages for those who define success as overthrowing the capitalist system. Each day you can flip to a new page for guidance and encouragement on the revolutionary path. You'll be able to re-use it year after year.
Thousands have enjoyed these Affirmations online, and many have written to me to ask for a printed calendar. The print run will be 1,500 copies. A photo mock-up is below (along with today's Affirmation).
Thanks so much for your help and support!
Solidarity!
Stephanie
***
P.S.: Here's a shortened url to help spread the word on Twitter, Facebook etc: http://kck.st/1RuqHrk