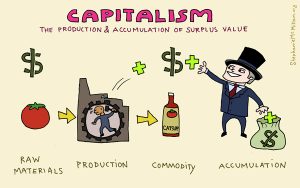 Capitalism is a mode of production – a totality of social relations that shapes how the society as a whole reproduces itself, how we all meet our needs, how we get from one day to the next. There are different modes of production, distinguished from one another by what drives the economy. This economic foundation generates, and is in turn supported by, a corresponding political system (which keeps one class in power over everyone else), plus prevailing ways of thinking that make it all seem natural and inevitable (such as the idea that "poverty we shall always have with us.")
Other contemporary and recent modes of production besides capitalism are slavery and feudalism. All of these have one thing in common: class divisions that facilitate the accumulation of wealth by a small parasitical minority on the backs of the producing majority.
For slavery and feudalism, the new wealth taken possession of by the ruling class is the product itself. Under feudalism, a landlord takes half or a third of a peasant's grain, whatever the quantity is and however much work the peasant put into it. But capitalist accumulation runs on a different formula. For capitalists, the product itself is not the point—the wealth they accumulate is the labor power extracted from workers in the production process. Labor power is wealth crystalized in commodities, in the form of surplus value (a form of profit). The particular kinds of commodities we produce don't really matter; the money is made in the production of them.
In order not to starve, workers, who possesses or control no means of production, must sell our labor power, or ability to work, to the capitalist, for wages. (Our predicament is no accident, but has been engineered through systematic historical dispossession of formerly self-sufficient, land-based people.)
The big scam of capitalism is that wages are supposedly a fair trade of money for the amount of time that we work. Wages are generally based on what capitalists decide that we need for our survival—to pay our rent and feed our families. But in reality, capitalists are not buying our time—they are buying our labor power, which they use to produce commodities for them, that they later sell at a price higher than what they paid us. This profit is reinvested as new capital, which causes businesses (and the economy as a whole) to constantly grow larger. Continue reading What is Capitalism?