Please note: for international shipping (outside the US) of one book, please add $14. For other items and quantities, please email me: steph@minimumsecurity.net).
---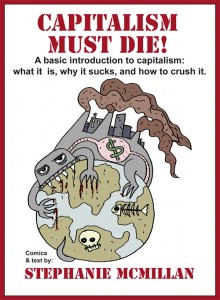 PRINT RELEASE DATE — MAY FIRST, 2014!!
"Capitalism Must Die! A Basic Introduction to Capitalism: What It Is, Why It Sucks, and How to Crush It"
2013, Idees Nouvelles, Idees Proletariennes (koleksyon-inip.org/), 248 pages.

This book uses text and comics to explain in simple terms what capitalism is, how it works, why it's irredeemable, and what we can do to end it. Oppression, ecocide, inequality, and exploitation can't be voted away or escaped. You can't get rid of them through consumer or lifestyle choices. If you really want to end the atrocities, you need to join the worldwide fight against capitalism!
EBOOK (full color): You choose the price. Download available at gum.co/capitalismsucks
The PRINT version (black & white interior) will be available by May 1, 2014.
Pre-order (FREE SHIPPING in US):
---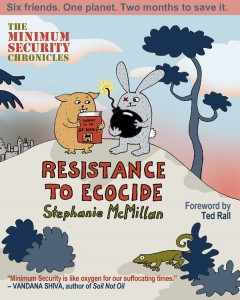 "Minimum Security Chronicles: Resistance to Ecocide"
2013, Seven Stories Press, 159 pages.

In this full-color graphic novel, a group of friends are desperate to stop the destruction of the planet for capitalist profit. They explore every option, from protesting to community gardening to the murder of CEOs. Suddenly they learn of a massive and dangerous geo-engineering project scheduled to begin in only a matter of weeks. To prevent it, they are compelled to act.
$16.95. Free shipping in US.
---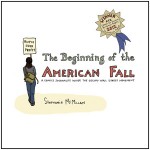 "The Beginning of the American Fall: A Comics Journalist Inside the Occupy Wall Street Movement"
2012, Seven Stories Press.
"With delightful full-color drawings, interviews, dialogue, description, and insightful reflections, this book chronicles the first several months of the fragile and contradictory movement. It situates detailed personal experiences and representative narratives within the broad context of a truly unique and historical global conjuncture. This book will stand as a record of the emerging movement in accessible comics form."
$16.95 – FREE shipping in US
---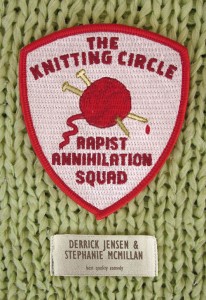 Novel – "The Knitting Circle Rapist Annihilation Squad"
Co-written with Derrick Jensen (2012, PM Press/Flashpoint).
The six women of the Knitting Circle meet every week to chat, eat cake, and make fabulous sweaters. Until the night they realize that they've all survived rape—and that not one of their assailants has suffered a single consequence. Enough is enough. The Knitting Circle becomes the Knitting Circle Rapist Annihilation Squad. They declare open season on rapists, with no licenses and no bag limits. With needles as their weapons, the revolution begins.
"This novel is both darkly comic and deadly serious, a genre of one where Monty Python meets the SCUM Manifesto. It is a story that never gets told in rape culture: women fighting back . . . Read this book and you will never look at knitting needles the same way again."
— Lierre Keith, author of The Vegetarian Myth: Food, Justice, and Sustainability
$15 – FREE shipping in US.
---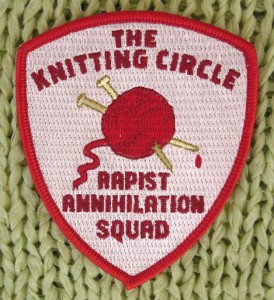 Patch – "The Knitting Circle Rapist Annihilation Squad"
This embroidered patch is on the cover of a novel I co-wrote with Derrick Jensen (due out September 2012 from PM Press/Flashpoint). It can be either ironed or sewn on. Measurements: 3.5″ x 3″.
$6 each; $25 for each multiple of five – FREE shipping in US.
---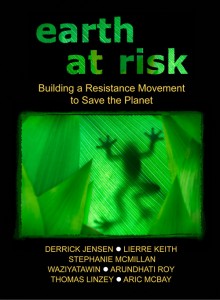 This DVD includes videos of the talks given at Earth at Risk, an event in Berkeley, CA, in November 2011. The speakers are: Derrick Jensen, Lierre Keith, Waziyatawin, Thomas Linzey, Aric McBay, Arundhati Roy, and myself.
$20 each – FREE shipping in US.
---
"Mischief in the Forest"
A children's book written by Derrick Jensen, and illustrated by me.
Hardcover. 40 pages of cuteness. $15.
If buy them from me directly, I'll sign them and you can have free shipping in the US.
(Email me for international shipping charges: steph@minimumsecurity.net).
Summary from the back cover:
"Grandma Johnson lives alone in the forest and loves to knit sweaters for her grandchildren in the city. One day, after returning from a visit with them, her solitude comes to an end — someone has taken her yarn! The mystery is solved in a colorful fashion when Grandma Johnson sees the bears, birds, rabbits, trees and other forest dwellers playing with the yarn. Suddenly, the forest doesn't seem so lonely, and the visiting grandkids take great delight in getting to know its inhabitants.
"This picture book is a lesson for both young and old to connect with one's surroundings and embrace the role of good neighbors with the rest of the natural world, whether in the city or in the forest."
* * *
"After my son closed the book, he went outside to look for his friends in the forest too! I loved this book and highly recommend it for all young ones, and old ones too!"
– Deanna, on Amazon
---
"As the World Burns: 50 Simple Things You Can Do to Stay in Denial,"
A graphic novel created with Derrick Jensen (author of Endgame , A Language Older Than Words and many other books), 2007, Seven Stories Press, 224 pages.
$14.95 – FREE shipping in US.
Space aliens arrive to eat the planet. Bunnies are locked in detention centers. Bananabelle's energy-efficient light bulbs fail to stop global warming. From the back cover: "…a hilarious satire and a passionate wake-up call that will inspire you to do whatever it takes to stop ecocide before it's too late."
"We think our simple solutions to the Earth's problems are helping, but As The World Burns shows that they're just distracting us from the terrifying truth. Jensen and McMillan unflinchingly confront these pressing issues, and their book is really funny, too….To a wild future!"
–Andy Hurley, drummer for Fall Out Boy
"Visionary and honest, As the World Burns offers a compelling yet brutal assessment of the state of the planet–and the state of mind of its most destructive tenants. It is a great read, a groundbreaking volume of graphic literature and a political polemic of the first order."
– Ted Rall, Silk Road to Ruin
---
"Attitude featuring Stephanie McMillan's Minimum Security"
A collection of comics from 1999-2005. NBM Publications, 160 pages. Foreword by Ted Rall. ISBN: 1561634425.
$12.95 – FREE shipping in US.
"This is social satire at its wittiest and most engaging."
– Howard Zinn, A People's History of the United States
"Minimum Security is like oxygen in our suffocating times."
– Dr. Vandana Shiva, Stolen Harvest: The Hijacking of the Global Food Supply
---
Stickers!
Each sticker measures 2″ x 3-1/2″.
Buy 10 for $4.95 – FREE shipping in US.