by admin
on
February 4, 2015
at
4:54 pm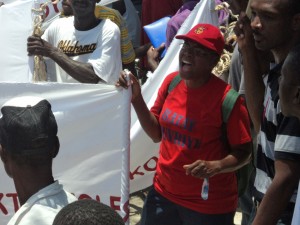 Hi everyone,
Two days ago I was outraged to hear of an attempt on the life of Yannick Etienne of Batay Ouvriye (Workers Fight) in Haiti. Below is a statement from the Rapid Response Network about it, which I'm trying to spread wherever I can. Please take a moment to read it, and if you agree, to participate as specified at the end, and share with friends. I've met Yannick several times and have been hugely inspired by her integrity and courage; indeed by everyone in Batay Ouvriye that I've had the good fortune to come in contact with. Her life is completely dedicated to the struggle of the international working class against capitalism. If we want that too, we need to take a stand to defend her and her work.
In the coming days there is a plan to gather and distribute more information, including an audio interview with Yannick. I'll send those out too.
Solidarity,
Stephanie
***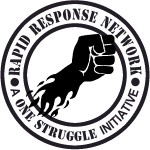 Urgent: take action with the Rapid Response Network!
*Militant union organizer attacked in Port-au-Prince*
Back Off, Thugs: We Will Defend Yannick Etienne!
On January 30, an assassination attempt was made on Yannick Etienne, a militant of Batay Ouvriye (Workers Fight), in the SONAPI industrial zone of Port-au-Prince. The perpetrators were flunkies of the NGO/yellow union CNOHA (Central National Workers of Haiti).
↓ Read the rest of this entry…