by admin
on
May 18, 2015
at
10:42 am
http://www.counterpunch.org/2015/05/18/feeling-trapped-in-a-dead-end-system/
May 18, 2015
Feeling Trapped in a Dead-End System?
Cartoonist Stephanie McMillan's Affirmations Encourage Resistance

by MARK HAND
Activists and organizers for social change undoubtedly experience periods of burnout. Working long hours — typically without pay and little appreciation — on campaigns, issues and causes where victories are few and far between can be demoralizing. Some activists get so frustrated with the perceived lack of results from their hard work, the divisions within the Left, and the rampant apathy among the general public that they give up entirely and retreat from activism.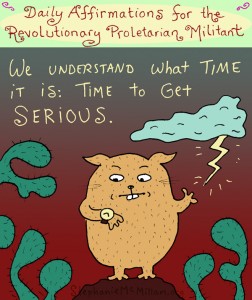 Cartoonist, writer and organizer Stephanie McMillan saw the depression, feelings of hopelessness and other difficulties faced by her fellow activists. And she wanted to do something to help people overcome these. So she started writing uplifting messages to empower individuals to continue working for a better world. She calls her inspirational messages "Daily Affirmations for the Revolutionary Proletarian Militant." Similar to the memorable characters in her popular comic strips Minimum Security and Code Green, McMillan's affirmations are accompanied by cute and colorful animals, plants and insects.
McMillan is almost finished writing 365 affirmations, and when she puts the final touches on the last one, she hopes to gather them all up and offer the entire collection as a 365-day perpetual desk calendar. The Fort Lauderdale, Fla., native is holding a campaign that ends June 12 to raise enough money to get the calendars printed.
In mid-May, a few days after McMillan launched her fundraising campaign, I asked her why she decided to write these affirmations. The conversation then moved on to broader questions about living in a world filled with barriers to positive change.
Mark Hand: When did you start writing and drawing the Daily Affirmations for Revolutionary Proletarian Militants?
Stephanie McMillan: I started on January 1, 2014, to provide an alternative for revolutionaries to the same old New Year's resolutions. I intended to post them every day for a year, but some of them straggled into 2015. I'm finishing up the final 34 this month, daily through June 12, to wind up with 365 on the final day of the Kickstarter campaign.
MH: What inspired you to write them?
SM: Capitalists constantly push us to want things that keep us trapped in the system and obsessed with trivialities that distract us from resistance. All kinds of support is available if we strive to make money, worship a god, lose weight, find romance.
But there is a huge lack of inspirational literature to encourage and uplift people whose lives are dedicated to social transformation. Most writing on the Left is theoretical and political — these are obviously crucial, but there isn't much that addresses us on the ideological level, on helping us change our ways of thinking so we stay strong, on track, and motivated, that helps us establish standards of behavior that serve our goals. All we hear is the constant barrage of capitalist ideology telling us that we're wrong, our aspirations are impossible, we're crazy to try, and "we can't beat 'em, might as well join 'em. No wonder many people feel so hopeless, depressed and overwhelmed.
I started writing the Affirmations to bolster my own resolve and strategic optimism, and when I started sharing them, I saw that they filled a strong need for many others as well. So I decided to draw them regularly.
↓ Read the rest of this entry…