on
December 8, 2014
at
9:59 pm
I ran out of these patches, but ordered some more. They should be here by 12/18 or so, for those who want to order them.
By the way, if anyone is looking for somewhere to get patches made, the place I get these is great: the Patch Superstore: http://patchsuperstore.com/. Bill, the sales guy, is very nice and helpful. They're on top of things, and do a great job. I recommend them.
Meanwhile, an article about a real-life knitting circle who recently stopped a serial rapist: http://jezebel.com/after-protest-alleged-serial-rapist-teen-arrested-in-n-1665787711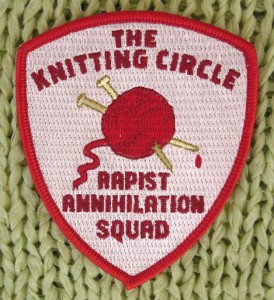 Patch – "The Knitting Circle Rapist Annihilation Squad"
This embroidered patch is the same as on the cover of the novel. It can be either ironed or sewn on. Measurements: 3.5″ x 3″.
$6 each; $25 for each multiple of five – FREE shipping worldwide
---