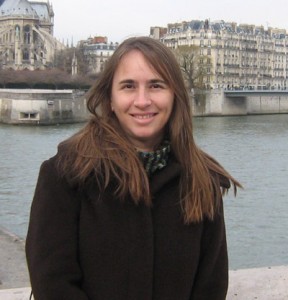 Stephanie McMillan decided at age ten that she would become a cartoonist, and spent much of grade school reading Peanuts and copying the characters. She created a short animated film during the summer after high school at the film studio near Bonn, Germany that had been founded by her grandfather, animator Hans Fischerkoesen (Das Loch im Westen and Die Vervitterte Melodie). Awakening in high school to the dangers of nuclear war, she went on to work for many years as an activist against imperialism, oppression and exploitation.
Stephanie graduated from Tisch School of the Arts at New York University in 1987 with a BFA in film, studying animation under Richard Protovin and John Canemaker. She received an award for her student film.
In 1992 she was hired by the alt-newsweekly XS magazine/City Link as an editorial assistant and offered her first professional cartooning opportunity. In 1999 she began self-syndicating her cartoons, plus providing exclusive comic features and illustrations. Her work has appeared in hundreds of publications worldwide, from Iceland to Bangladesh to Canada to Saudi Arabia, including in the U.S. the Los Angeles Times, Daily Beast, South Florida Sun-Sentinel, Yes! Magazine, Comic Relief, Amarillo Globe-News, Funny Times, yahoo.com and the San Francisco Bay Guardian.
In addition to several books, her projects have included the comic strip Minimum Security (syndicated online at Universal Uclick's gocomics.com), and a weekly editorial cartoon, Code Green.
Testimonials:
"Provocative, insightful, and entertaining."
– Jeff Monson ("The Snowman"), world champion MMA fighter
"McMillan's expressive style, pared down to the basics and intensified over the years, allows for instant communication of thoughtful rage."
– Comics Journal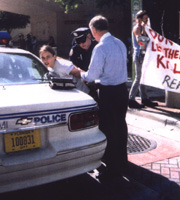 "Very talented."
– Washington Post
"This is social satire at its wittiest and most engaging."
– Howard Zinn, author of A People's History of the United States
"Her politics are perfect, her drawings sly and subtle, and her dialog funny as hell."
– Derrick Jensen, author of Endgame
"Visionary and honest."
– Ted Rall, president of Association of American Editorial Cartoonists, author of Anti-American Manifesto and To Afghanistan and Back
"Minimum Security is like oxygen for our suffocating times."
– Vandana Shiva, author of Soil Not Oil: Environmental Justice in an Age of Climate Crisis
" Razor-sharp critique packaged as cute-kid-and-funny-animal cartoon."
– Booklist
"The cartoon generated a huge amount of filth, intolerable filth."
– Senator Bill Napoli, sponsor of abortion ban, South Dakota (Rapid City Journal)
Books:
2014 — Capitalism Must Die! A Basic Introduction to what capitalism is, why it sucks, and how to crush it (comics & text), INIP (Idées Nouvelles Idées Prolétariennes)
2013 — The Minimum Security Chronicles: Resistance to Ecocide (graphic novel), Seven Stories Press
2012 — The Beginning of the American Fall (comics journalism about the Occupy protests), Seven Stories Press
2012 — The Knitting Circle Rapist Annihilation Squad (novel with Derrick Jensen), PM Press/Flashpoint
2010 — Mischief in the Forest: A Yarn Yarn (children's book with Derrick Jensen), PM Press/Flashpoint
2010 — Pendant Que la Planète Flambe (French edition of As the World Burns), La Boîte à Bulles
2009 — Excessive Force (anthology), Last Hours, UK
2007 — As the World Burns: 50 Simple Things You Can Do to Stay in Denial (graphic novel with Derrick Jensen),  Seven Stories Press (Nominated by National Library Association as a Great Graphic Novel for Teens, 2008).
2005 —Attitude Presents Minimum Security (cartoon collection), NBM Publishing
2002 — Attitude: The New Subversive Political Cartoonists (anthology), NBM Publishing
Various textbooks, and several books in the Opposing Viewpoints series by Gale Publishing Group.
Solo Exhibition:
October 19-24, 2013 — The Political Art of Stephanie McMillan, West Gallery, CSUN (California State University at Northridge)
Group Exhibitions:
Jan. 20 – Feb. 14, 2015 — WonderWomen, Katherine E. Nash Gallery, University of Minnesota, Minneapolis
April 18-May 10, 2014 — Environmental Art Exhibition, 7th Circuit Productions/Moksha Gallery, Miami
March 1-31, 2014 — Cartoon Movement's Expo Kinkerstraat, outdoor installation, Amsterdam, The Netherlands
April 24-May 6, 2010 — There Is More Than One Truth: International Cartoons on Press Freedom, GO Gallery, Amsterdam, The Netherlands
Feb. 4-May 16, 2010 — Lines of Attack: Conflicts in Caricature, Nasher Museum, Duke University, Durham, NC
Oct. 18-Nov. 22, 2008 — Viva La Propaganda: Political Art, Bear and Bird Gallery at Tate's Comics, Sunrise, FL
May 20-Nov. 6, 2006 — She Draws Comics!, Museum of Comic and Cartoon Art, NYC
Sept. 25, 2004 — Got Democracy?,Red Pearl, Fort Lauderdale, FL
May 27-July 4, 2004 — Human Rights Day Exhibition, Mantova, Italy
Jan. 17-19, 2004 — Recontre Internationale du Dessin de Presse, (International Convention of Editorial Cartooning), Carquefou, France
Nov. 17, 2003-Jan. 3, 2004 — Patriot Art: Cartooning and Free Speech in Wartime, Philadelphia Free Public Library; and June, 2002, Institute for Policy Studies, Washington, DC
Oct. 18, 2003-Feb. 1, 2004 — Too Hot to Handle: Creating Controversy Through Political Cartoons, The San Francisco Cartoon Art Museum; and June 15-Aug. 31, 2003, Andy Warhol Museum, Pittsburgh, PA
Films:
2011 —  End:Civ, Franklin Lopez (interview)
1987 —  Set in Motion,  Jane Aaron (intern for stop-motion animation and brief appearance)
1986 —  Huggies animated promotional film,  (cel painting)
Other:
2010-2016— Editor and designer, The Notebook, Association of American Editorial Cartoonists
2009-2016— Book interior and cover design, PM Press/Flashpoint
Awards:
2014 — Cartoon Death Match, First Place, Cartoon Art Museum, San Francisco
2012 — RFK Journalism Award for Editorial Cartoons
2011 — Scripps Howard Award for Editorial Cartooning (Finalist)
2010 — Sigma Delta Chi Award for editorial cartoons, Society of Professional Journalists
2010 — Press Action Cartoonist of the Year
2008 — Press Action Dynamic Dozen
2005 and 2003 — First Place, Excellence in Postal Union Journalism, APWU National Postal Press Association
2000 — Honorable Mention, Creative Resistance Contest, Adbusters
1997 and 1994 — First Place, General Excellence in Editorial Cartooning, Florida Press Club
1996 — Second Place, General Excellence in Artist Illustration, Florida Press Club
Organizations:
2011-2016— Society of Environmental Journalists
2010-1016— One Struggle
2010-2016— Cartoon Movement (Amsterdam)
2007-2016— AAEC (Association of American Editorial Cartoonists
2006-2014— Cartoonists With Attitude (founding member)
1980s-'90s — Refuse & Resist!, October 22nd Coalition Against Police Brutality, U.S. Hands Off the Haitian People Coalition, One Struggle