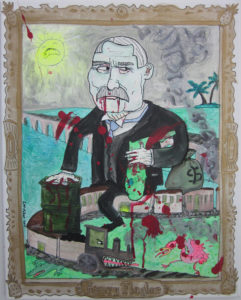 Acrylic paint and paint marker on canvas, 16″x20″.
I painted this in defiance of all the blind worshiping in South Florida of this oil and railroad tycoon/land developer. He's a very big deal around here, considered a great man. My studio is actually located on a street — one of many — named after him, in a whole neighborhood called Flagler Village. I think it should be renamed to "Flagler Was an Evil Motherfucker Village".
So what did he do wrong?
He was a co-founder (and partner with Rockefeller) of Standard Oil, which captured a monopoly on oil refining in the US, ushered in the age of fossil fuels, accelerated the ubiquity of their use and thereby global warming. He then used his Standard Oil fortune to break South Florida open like a ripe fruit, building a tourist resort empire with hotels and railroads, leading to the natural ecosystem being largely wiped out.
One may argue that it was all inevitable because of larger economic forces in an era of capitalist expansion, and if he didn't do all that, then others would have. Nevertheless he is the one who actually did it…which is why contemporary developers and other predators who follow in his footsteps have engineered a culture of reverence around him. Thus the need to insist that he deserves contempt and disgust from the rest of us.